At Your Service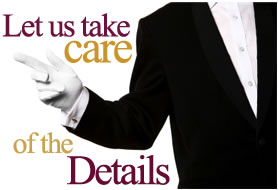 Stressed out by all the details that must be managed during your move? Let our Concierge help! Exclusively available to assist our clients before, during, and after their moves, our Concierge can help you with the following:
Preferred access to a wide range of home-related products and services… plus special offers, discounts, and incentives provided by vendors who meet Liz Moore & Associates' high quality standards.
Reliable Contractor Referrals. Vendors with whom our agents and clients have had successful relationships in the past.
Preferred Vendors
Public and Private School Information. Check out our links to local schools, or contact our Concierge at (800) 825-2707 for more detailed information.
Moving Company recommendations. Let us recommend a local moving company with an outstanding track record of customer satisfaction.
Temporary Housing. Need a place to stay before your new home is ready? We work with a number of short term apartments that can offer solutions to your temporary housing needs.
The role of the Concierge at Liz Moore & Associates is to help with anything our clients need during and after their moves. Have a question or a concern? Need a recommendation or a referral?
E-mail us at [email protected]…we'd be more than happy to help!